By: Josh Henke, RN, BSN, CEN, CFRN, CCRN, Georgetown University.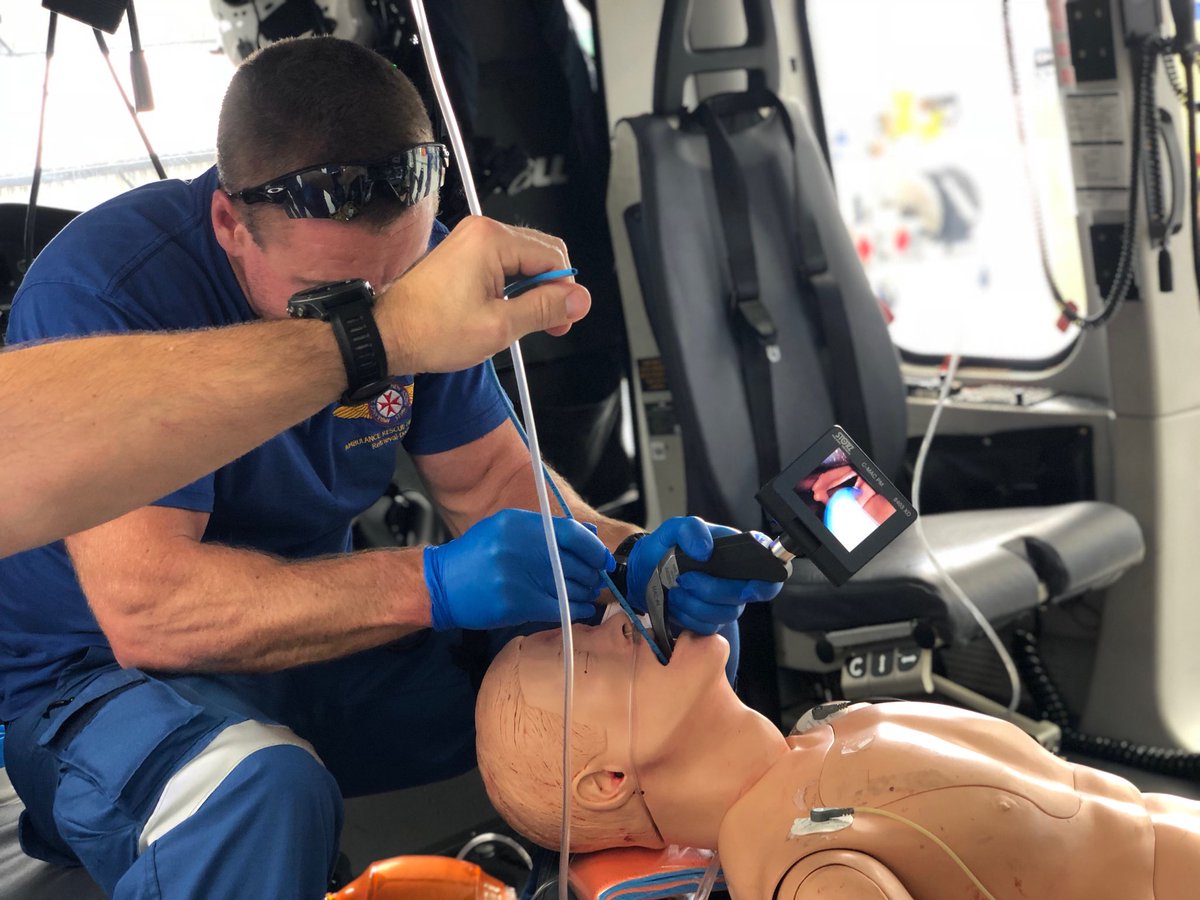 Image courtesy Sydney HEMS.
Aviation and medicine have long-complimented each other. Checklists are the first thing that comes to mind when thinking of this. The airline industry helped to revolutionize the medical industry with the system-wide adoption of checklists, and the acceptance of resource-management. I challenge you to find an O.R. that does not follow a checklist prior to making the first cut. (Hint: you won't)
I was reminded of the similarities between aviation and medicine the other day while talking to a non-flying, never-intubated-anyone peer. He was asking me about RSI and all of the stuff that goes along with it. I could hear the tension in his voice as he was thinking of himself in the hot-seat with a patient. Just the thought of dropping a difficult tube can get a medical provider in a tizzy, with or without a checklist. I found myself articulating something I have long held dear;
Learn how to fail brilliantly. Be the best at failing.
This might sound odd, but hear me out. We are all going to miss tubes. Anyone that tells you they never missed a tube is lying. We all have or will miss that airway, and its how we fail that determines the patient's outcome. The planning for failure; being brilliant with your back-up plan assures that WHEN stuff DOES go south, you are the best at re-acclimating and implementing a solution. I also like the phrase "you can BLS someone all the way to Texas if you're good at it!"
In the air medical world, failure carries a higher price. But, failures do happen. Engines quit, wheels don't deploy, blades can go rapidly south. My advice is - even in this case - know how to fail brilliantly. You can have the best pilot in the world, but even he can't make a helicopter NOT FAIL despite his many years of flying-experience.
I challenge you to think about this; how might your operation fail? And how can you be brilliant when it does?
Who is designated to make radio call outs in the event of an emergency?
Are you allowed to put the gear down?
Do you, in the left seat, spend time looking for appropriate LZs in case sh!t happens in a hurry?
Take some time and think about how you plan for failed-airways and apply that to your air operations. Checklists have pervaded the medical industry and made it a better place. Can we use the lessons learned in critical-care medicine to do the same for aviation?
Are you willing to be part of that success-story? As my pilot-friend Dan Foulds says, "You are not a passenger! Learn as much as you can about aviation as fast as you can and be a contributing- member of your flight-team!"